Durians has been known to be the smelliest fruit, the smell of it is almost straight up disgusting. However, not all would agree as durian can be sweet at times and VERY VERY creamy. Get your cloths pegs for some and ready your wallets for the rest because it's the DURIAN SEASON!! We all know that durians are often eaten just like that but not all of us know that durian can be used in both sweet and savory dishes. These are a few iconic durian dishes that can only be found in MALAYSIA!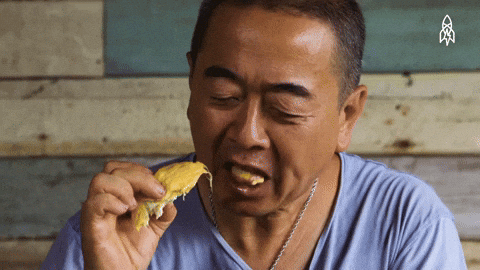 Durian Cendol
I can PROUDLY say that Durian Cendol is one of Malaysia's signature delicacies! Pretty sure no one would deny that Cendol is one of Malaysia's classic shaved ice dessert and we are all proud of. The old classic version of cendol consist of shaved ice along with red beans, sweet corn, cendol, evaporated milk and a splash of brown sugar. However, lots of stalls has started to put a twist to it by adding DURIAN! And let me tell you, it's a whole lot creamier and it's nothing but yum YUM YUMM!!
Durian cheesecake
Nowadays, cheese is in everything and let's be honest who can resist cheese?! They go well with literally anything. What more is there to say when its CHEESE and CAKE?! Cheesecake is already creamy on its own but with DURIAN in it, the creaminess of the cake is mind blowing! With Durian's unique smell and taste, the cheesecake won't be too sweet, just PERFECT !
Durian Pizza
I don't know about you but Pizza is my comfort food. I can literally eat pizza anywhere and anytime.The combination of Durian and Cheese is nice but pizza ..erm…it's something new. But it's surprisingly DELICIOUS! We all know that sweet pizza recipes such as chocolate topped with marshmallows and  Kaya with banana. It's the same thing (: It's no harm to try something new!! Durian lovers, YOU WON'T WANT TO MISS THIS !
Durian Bingsu
Bingsu (Korean shaved ice) is something you don't want to miss when it's FREAKING HOT outside! I used to love milk Bingsu, it's so creamy and it goes well with any toppings! But recently, I have noticed that a lot of cafes that serve Bingsu are starting to put a twist by putting the prickly King of Fruits. I had doubts at first but Oh boy ! I was wrong ! The combination of Durian and Bing su is REALLY GOOD!
Durian Brulee
Have you ever wondered what a Durian Brulee would taste like? All I can say is that the creaminess of Durian and the soft texture of soft creamy custard is just beyond this world.I am not even kidding guys ! I swear even durian haters would change their mind after tasting this incredible dessert! It's very very addictive, even writing about it makes my mouth water HAHAHAHA (:
Durian Crepe
Those who are not really into Durian but can still eat one or two would really love this! Durian Crepe is light and so is its flavour. Perhaps because of the vanilla cream, the velvety durian, and the flufliness of the crepe is the perfect balance and the taste doesnt hit you in the face. A great dessert for durian beginners! I would not even lie, it just melts in your mouth. Making it the best dessert after dinner!
With Durian season coming in, it's not surprising to see durian dishes everywhere! DURIAN LOVERS take note, You can now savour durian in many many ways!!!!!It's DURIAN TIME!!!!!!